It was a great honour and privilege for NAV Flight Services to work with British Airways alongside other partners on their recent "Perfect Flight" demonstration.
We publish the original report, approved by British Airways:
British Airways operated the BA1476 on 14th September 2021 from London Heathrow to Glasgow in the most efficient way possible, to demonstrate how the industry is moving towards a Perfect Flight.The flight was powered directly by sustainable aviation fuel to minimise its carbon footprint. The short journey on the airline´s new special liveried sustainability aircraft painted in partnership with Airbus replicated a flight British Airways operated to Edinburgh in 2010, but this latest flight demonstrated what the potential is for reducing carbon emissions furher and show how far the aviation industry has progressed in its efforts to decarbonise over the last decade.

We are immensely proud of our contribution – demonstrating the benefits and capabilities of our climb speed optimization and FMS wind uplink (NAVlink) products.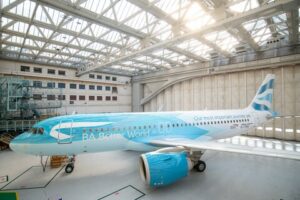 Captain Spencer Norton – Manager Flight Efficiency & Evaluation at British Airways said:

"It's been extremely beneficial and exciting to work with NAV Flight Services on their climb speed optimisation and wind uplink (NAVlink) product. Small marginal gains can make a huge difference on every flight, as demonstrated on the "Perfect Flight". At British Airways, we're on our most important journey yet – to a better, more sustainable future. Initiatives such at this one, help us on our flightpath to net zero".
Official British Airways press release:
https://mediacentre.britishairways.com/news/15092021/as-the-uk-prepares-to-host-the-cop26-climate-summit-british-airways-and-its-partners-achieve-record-carbon-emissions-reductions-as-part-of-their-perfect-flight-demonstration-to-show-how-aviation-is-decarbonising?ref=News